Painters of the 16th and the 17th Centuries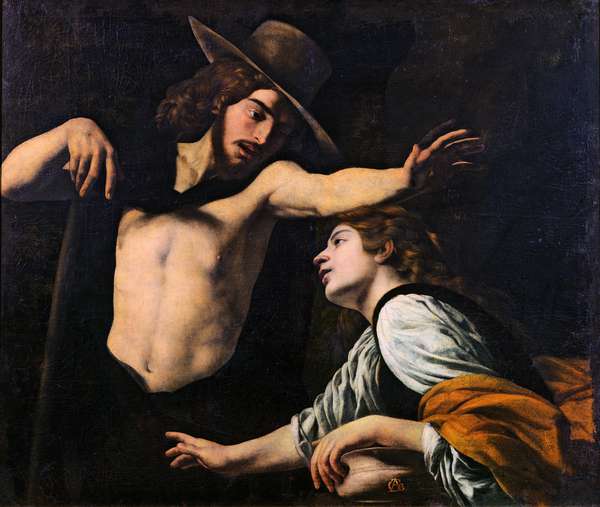 Battistello Caracciolo, Do not touch me
During the rule of the Medici, Tuscan painting was very diverse and was divided in two main schools: one courtesan, depicting allegorical and profane themes, the other religious, following  the guidelines of the Council of Trento. The Museum exhibits work from both these schools. Some of the characteristics of 16th and 17th century art, such as chromatic evocation, sharp and liquid colours and enigmatic female figures may be found in works such as the Virtues by Giovan Maria Butteri, which was inspired by Cesare Ripa's Iconology.
Raffaello and Andrea Del Sarto are an inspiration for the Portrait of Baldo Magini (1450-1528) by Rodolfo Del Ghirlandaio, which depicts the illustrious benefactor of the City who reopened the Monte di Pietà (the City's Pawnshop). The Madonna with the Child and Saint Catherine, credited either to Maestro Della Madonna Parrish or to Giulio Francia, is noteworthy for its clear and glazed colours, as with Zanobi Poggini's Saint Orsola with the Virgins, which was inspired by the austere and conservative style of his master Sogliani. The artworks by Giovan Battista Naldini stand out among the others: the dramatic Passion of Christ and the rare Altar with the Sacred Family created with Giovanni Balducci.
Several paintings illustrate the deep influence exercised by Caravaggio on 17th Century painting: Noli me tangere, a highlight by the Neapolitan master Battistello Caracciolo; the theatrical Semiramide by Cecco Bravo, his first attested artwork; the dramatic Repudiation of Agar by Mattia Preti, expressive of his Roman period; and the Good Samaritan by Nicola Malinconico, inspired by the late style of Luca Giordano. Of course, there is also Christ derided credited to the Master of the Candlelight and the Decapitation of Saint John the Baptist by Taddeo Baldini.