Visit the Museum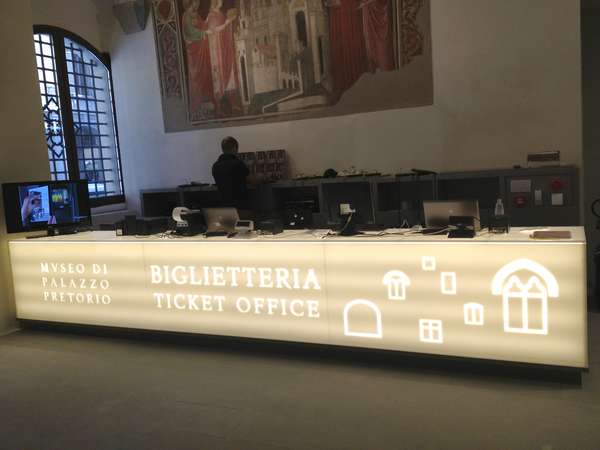 Palazzo Pretorio, ticket office
In the splendid spaces of Palazzo Pretorio, one of Italy's most beautiful medieval buildings, you can admire a collection of masterpieces composed over the centuries thanks to artists such as Giovanni da Milano, Donatello, Filippo Lippi, Santi di Tito, Alessandro Allori , Filippino Lippi and Lorenzo Bartolini.
The ground floor will take you on a journey to discover Prato and its Museum. The first floor is dedicated to the fourteenth century and the fifteenth century, a crucial page of the Renaissance, with Filippo Lippi and Workshop Prato. The second floor hosts surprising works, between the sixteenth and eighteenth centuries. The third is dedicated to the nineteenth century and the twentieth century, offers a spectacular view of the city, next to the masterpieces of Bartolini, protagonist of the nineteenth century.
Palazzo Pretorio preserves a heritage that you can see thanks to the multimedia available on each floor, and thanks  the guide and audio guide at the bookshop. Do not miss the evocative video projection on the Sacred Girdle, the belt of the Virgin preserved for centuries in Prato Cathedral: a unique and fascinating history.