Museum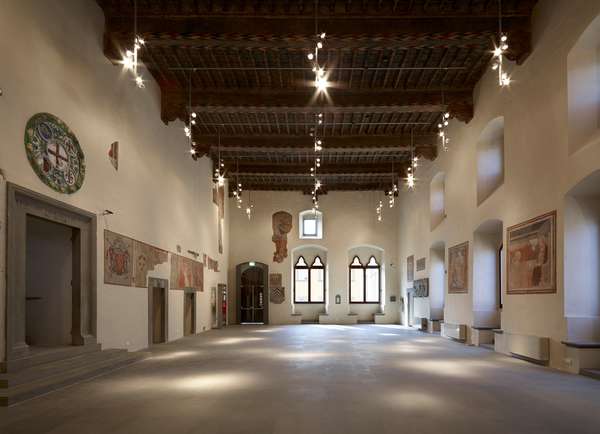 Palazzo Pretorio, first floor, the great hall after restoration
For too long the city of Prato has been deprived of the Palazzo Pretorio and the masterpieces of its collections, to the exten that there was a loss of awareness and pride in it. Almost twenty years after the closure, it is finally possible to admire once again the beautiful heritage built throughout the centuries, thanks to artists as Bernardo Daddi and Giovanni da Milano, Donatello, Filippo and Filippino Lippi, Alessandro Allori, Santi di Tito, Lorenzo Bartolini.
The masterpieces of these great artists are highlighted by the new display, within the gorgeous spaces of the Pretorio. The arrangement of the display is traced using samples of cloth: a tribute to Prato's economy and history. The communication media used to convey the contents of the Museum are very innovative, thanks to multimedia devices and two evocative video projections: one about the history of Pretorio, and one about the Sacred Girdle - the relic symbol of the City - that is a virtual rendering of the frescos by Agnolo Gaddi from the Chapel of the Cathedral of Prato.
The success gained by the exhibit From Donatello to Lippi. Prato Workshop has confirmed that Prato has got the capability required to pursue the ambition of being both worthwhile and enjoyable to visit and discover.
As well as the paintings and sculptures that form the city's heritage, Palazzo Pretorio will house more exhibitions, thanks to a collaborative network in which various other leading museums take part. Palazzo Pretorio will therefore once again be the treasure chest of its city, the heart of its cultural life, and an outstanding strongpoint for Prato.