The enchantment of the Holy Girdle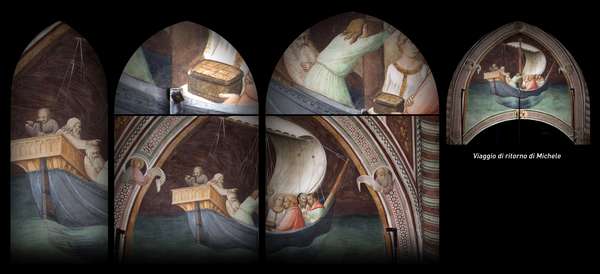 For ages The Holy Girdle has been the most precious treasure of the City and the cornerstone of its arts and identity. The Story of the Girdle is a fascinating mixture of real events and popular beliefs, art and faith. The charming video projection engineered by Roberto Creton offers a detailed view of Gaddi's series of frescos using of photographic and video images of the significant details, close to the images of today's ostension ceremonies. After nine centuries, the Sacred Girdle is shown to the people during five ostensions a year, from the Donatello designed Cathedral pulpit.
The most important ostension is on the 8th of September, celebrating the birth of the Virgin and the City feast, which attracts thousands of people.
The video projection lets the visitors go back in time, by matching the faces portrayed by Gaddi in the 14th Century together with the faces of people of today.
The Girdle is stored in a reliquary protected by three keys: one of these is kept by the canons of the Cathedral while the other two are kept by the City. For that reasons the ostensions use to take place in the presence of the Bishop and the Mayor of the City.
The musical soundtrack for the video projection was composed by Arvo Part, György Ligeti and Philip Glass.