The Shadow of the Etruscans. Symbols of a civilization between plains and hills
From 19 March 2016 to 31 August 2016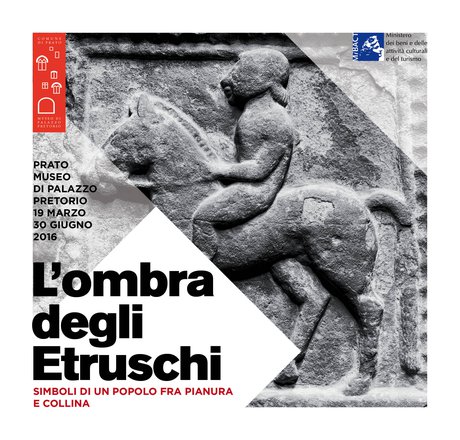 A journey through time exploring the sacred and the underworld horizons to rebuild the threads of the Etruscan civilization that in ancient times spread on the north area of the Arno river, along the direction of the Florence-Prato-Pistoia plain, the Mugello/Val di Sieve and Montalbano wide territory.
Between stones, bronzes and steles, what emerges is a fascinating part of history full of suggestions, which reconstructs distant cultural roots of ​​Tuscany through Prato and the epicenter of Gonfienti. To Gonfienti is dedicated the the first section of the exhibition "The Shadow of the Etruscans. Symbols of a civilization between plains and hills": a special attention is paid to the universe of the sacred, deducible from the devotees figures in bronze, as well from  the representation on an important attic Kylix (cup) in red-figure assigned to Douris, the famous Athenian painter. The second section opens the horizon on the production of "Fiesole stones" that best characterize this vast territory from which emerged, during the Etruscan age, the centers of Artimino, Fiesole and Gonfienti: steles and stones, decorated relief monuments that identify noble families coming from funerary contexts of the targeted area. An exhibition that reveals new aspects so far unknown of the archaeological past of Prato and Tuscany.
Opening times
Open Mon, Wed–Sun; closed Tue (except on public holidays)
10.30–18.30 (ticket office closes at 18.00)
Tickets
4 euro
Pre-booking online: eticket.coopculture.it
How to find us
Palazzo Pretorio is in Piazza del Comune, in the heart of Prato's historic city centre. The museum is easy to reach on foot from the railway stations of Prato Porta al Serraglio (500 m) and Prato Centrale (1,200 m), and from the city centre bus stops of the main city and out-of-town bus services.
Buses: CAP city services and LAM-MT out-of-town lines. CAP also runs a direct service from Firenze S.M.N. (Florence central railway station) to Prato, with departures every 15 minutes.
By car: A11 Firenze-Pisa motorway, exit at Prato Est, follow signs for city centre.
Pay-and-display car parks near the museum: Piazza San Francesco; Piazza Mercatale.
Information and bookings
Tel. +39 0574 1934996, Mon–Fri 9.00–18.00, Sat 9.00–14.00
Tel. +39 0574 1837860, weekends only
Event promoted by
Comune di Prato - Assessorato alle Politiche Culturali
Museo di Palazzo Pretorio
Ministero dei Beni e delle Attività Culturali e del Turismo
Soprintendenza Archeologia della Toscana
In cooperation with
Polo Museale della Toscana: Museo Archeologico Nazionale di Firenze, Villa Medicea di Cerreto Guidi
Scientific project  and exhibition itinerary conceived and curated by
Giuseppina Carlotta Cianferoni (Polo Museale della Toscana), Paola Perazzi, Gabriella Poggesi e Susanna Sarti (Soprintendenza Archeologia della Toscana)
In cooperation with
Rita Iacopino (Museo di Palazzo Pretorio)
Set-Up Project
Francesco Procopio
Press office
CoopCulture
Graphic design
RovaiWeber design
Catalogue
Edifir Edizioni