LEONARDO EFFECT _ WORKS FROM THE CARLO PALLI COLLECTION
From 5 April 2019 to 30 June 2019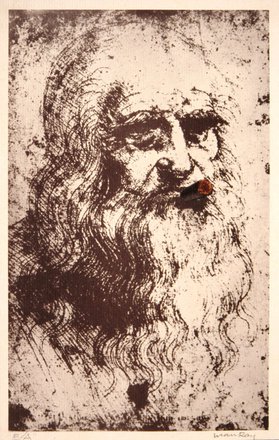 Palazzo Pretorio Museum  
In collaboration with the Luigi Pecci Center for Contemporary Art     

Present         

LEONARDO EFFECT           
WORKS FROM THE CARLO PALLI COLLECTION         

curated by Stefano Pezzato

Palazzo Pretorio Museum, Prato 5th of April - 30th of June 2019
Vernissage: Thursday  the 4th of April 2019, at 6 p.m.        

Catalogue: Pacini Editore, Pisa       
The echo of widespread celebrations for the five hundredth anniversary of the death of Leonardo da Vinci also reflects from Prato, which from the 5th of April to the 30th of June 2019 proposes the exhibition LEONARDO EFFECT. Works from the Carlo Palli collection created by the Palazzo Pretorio Museum, in collaboration with the Luigi Pecci Center for Contemporary Art to which the Prato collector in 2006 donated 200 works from his collection.

The exhibition at the Palazzo Pretorio Museum - curated by the head of collections and archives of the Pecci Center Stefano Pezzato, with the coordination of the Museum curator Rita Iacopino and installation by the architect Francesco Procopio - presents more than 80 works by 50 Italian and international artists divided into a thematic route inspired by Leonardo, as a tribute to the genius of Vinci and in "continuity" with the great historical-artistic tradition of Tuscany and with the vocation to the contemporary art of the city of Prato, where various contemporary collections of excellence are based.
postmodern recovery of universal icons like Leonardo, ironically "rediscovered" with the cigar in his mouth.           
An introduction to the exhibition becomes the canvas of the "lyricist" Ben Vautier which reports the manifesto of conceptual art: art is a speech on art. In fact, the whole exhibition is a "speech on art" by Leonardo, his myth, his research and his activities, his masterpieces and his codes, revisited and reinterpreted, taken up or evoked by dozens of artists in Italy and in the world over three decades, from the late 1960s to 2000.       
On the ground floor of the Palazzo Pretorio Museum the exhibition unfolds in contiguous sections of works dedicated to: Leonardo and Monna Lisa; words on art (and Leonardo); reflected writing; last dinner; the nature; anatomy and physiognomy; drawing and painting; tools and machines; the flight.      
On the first floor of the Museum, on the other hand, other "collector's choices" are presented around the Leonardo imaginary which is the theme of the exhibition.        
The whole journey, after all, is the result of choices, intentions and opportunities of Carlo Palli
from Prato (former gallerist, art dealer and auctioneer, therefore a passionate collector), of his predilection for the new avant-garde New Dada and Fluxus, of his frequent visits to actionism and performances, the verbal-visual, pop and radical experiences in which genres are mixed and cultural reasons or social facts are resumed and retraced in an amused and cultured key, through captivating and original artistic forms such as those proposed in the exhibition.
ARTISTS ON SHOW
Ay-O, Anna Banana, Massimo Barzagli, Mirella Bentivoglio, Alighiero Boetti, Umberto Buscioni, Giuseppe Chiari, Philip Corner, Giuseppe Desiato, Paul De Vree, Herman De Vries, Jean Dupuy, Lawrence Ferlinghetti, Giovanni Fontana, Claudio Francia, John Furnival, Fabrizio Garghetti, John Giorno, Klaus Groh, Pietro Grossi, Al Hansen, Geoffrey Hendricks, Allan Kaprow, Jiri Kolar, Ketty La Rocca, Arrigo Lora-Totino, George Maciunas, Roberto Malquori, Lucia Marcucci, Eugenio Miccini, Larry Miller, Yoko Ono, Luciano Ori, Orlan, Ben Patterson, Lamberto Pignotti, Michelangelo Pistoletto, Man Ray, Gianni Ruffi, Serge III, Mario Schifano, Daniel Spoerri, Stelarc, Luigi Tola, Karel Trinkewitz, Ben Vautier, Emilio Villa, Rodolfo Vitone, Wolf Vostell