After Caravaggio. The Neapolitan seventeenth century collections of Palazzo Pretorio and De Vito Foundation
From 14 December 2019 to 6 January 2021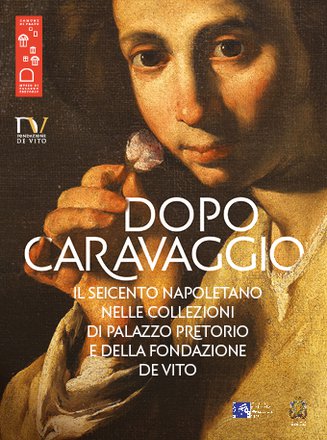 "Never seen" paintings by the De Vito Foundation together with the most evocative seventeenth century paintings of the Palazzo Pretorio Museum give life to an exhibition that aims to tell the decisive impact of Caravaggio's painting on Neapolitan school artists in the seventeenth century, through a choice of works of  the two collections. The exhibition, organized by the Municipality of Prato in collaboration with the De Vito Foundation and curated by Rita Iacopino and Nadia Bastogi, presents a number of paintings that is not high, but of great quality, and is structured around some of the most important personalities of the Neapolitan artistic scene. The paintings of Palazzo Pretorio interact with those of the De Vito collection, according to a chronological, stylistic and thematic sequence: a journey that starts with post Caravaggio's Naturalism, in the different interpretations of Neapolitan artists, up to the pictorial expressiveness of the Baroque language; an itinerary in which Battistello Caracciolo, Jusepe de Ribera, the Master of the Announcement to the Shepherds, Bernardo Cavallino, Mattia Preti, Nicola Malinconico mark the stages of an exciting visual and emotional experience.

The Collections The Museum of Palazzo Pretorio in Prato hosts one of the most important public nucleos in Tuscany of works by the Neapolitan seventeenth century, which on the occasion of the exhibition has been the subject of further studies and critical insights. The contribution to the knowledge of the seventeenth-century Neapolitan painting of the De Vito Foundation is decisive with its collection - formed thanks to Giuseppe De Vito (Portici 1924-Florence 2015), scholar and collector of the Neapolitan seventeenth century works of art and founder of the periodical "Researches on the Neapolitan seventeenth century" – which represents, for quality and historical interest, one of the most significant private collections of Neapolitan painting of the seventeenth century.
Info and reservations: Ph. +39 0574 24112 Monday to Saturday 9.30 a.m.-7 p.m.; Sunday 9.30 a.m.-6.30 p.m.
museo.palazzopretorio@comune.prato.it
prenotazioni.museiprato@coopculture.it