On Sunday, the 26th of November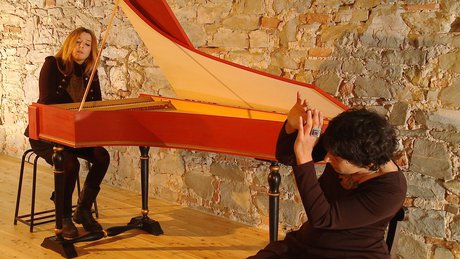 An intense tribute to popular Sicilian music and its reference figure, Rosa Balistrieri, to say no to all forms of violence against women. On Sunday, the 26th of November  at 5 p.m., the Museum hosts "Barefoot", a strong and powerful performance that the "Duo Ammatte" brings on stage to remember an artist who is definitely particular and out of the rules. The show is part of the initiatives for the "Day Against Violence on Women" and the admission is free of charge.      
Rosa Balistreri (1927-90) was the greatest musician of Sicilian popular music, a free and revolutionary woman discovered by Dario Fo in the sixties in Florence. Her life was not easy, victim of abuse and violence she found redemption through voice and music. "Barefoot" is the first performance of old Sicilian folk songs and instruments, brought to light by Balistreri, as well as the songs of the artist performed by the "Duo Ammatte" that is composed by Alessia Arena (voice) and Federica Bianchi (harpsichord, piano and percussion). The "Barefoot" performance was the winner of the selection SuonareFolkest 2016 and was third in the Sete Sois Sete Luas Award Revelation Festival in 2014.         
All women who are present at the concert will receive a voucher to visit, until the 3rd of December, the exhibition "Bound by a Girdle" at reduced price (3 euros).