Museums at the cinema!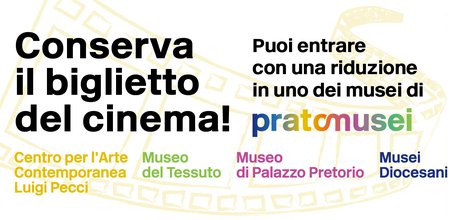 The reduction will be applied to movie tickets submitted within one month from the date of their issuance.
Furthermore in Omnia Center and UCI Cinemas multiplexes is showed a spot of Pratomusei before the beginning of the movie. The spot - like a trip back in time (starting from the Middle Ages to nowadays) - presents the four museums, inviting viewers to use the Pratomusei Card to discover them.

Pratomusei: the network of city museums

Founded in February 2013, Pratomusei is the network that brings together the four main museums of the city: Center for Contemporary Art Luigi Pecci, Textile Museum, Museum of Palazzo Pretorio and Cathedral Museum. The synergy between the four museums gave birth to the Pratomusei Card, the new card - valid for 3 days - which allows access to the four museums and to take advantage of numerous benefits.