The Lipchitz works in Prato: a story with a happy ending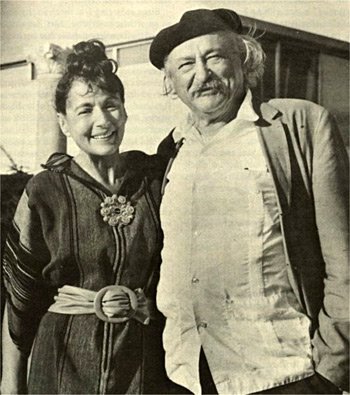 Jacques and Yulla Lipchitz
There are times when you feel that life has a meaning and a continuity. This is what I feel today as, together with my city, I celebrate the arrival of the 43 drawings and the 21 plaster pieces by Jacques Lipchitz that will find a home in the Municipal Museum of Prato. These are a donation from the attorney Hanno D. Mott, son of Mrs. Yulla Lipchitz.
Jacques Lipchitz rightly belongs to the history of modern art. By simply following the course of his life, we could cover much of the history of twentieth century art and witness the key role he played in it.
Jacques was Lithuanian and, when he was born in 1891, his homeland was part of the Russian Empire. His art training, however, took place in Paris where he lived during the years when that city was considered the art capital of the world: it was there that he met and became friends with Amedeo Modigliani as well as Pablo Picasso and Juan Gris. Alongside the latter two he was drawn to Cubism of which he became a major exponent.
During the Second World War, his Jewish roots led him to seek refuge in the United States where he remained influencing American art and taste. He didn't return to Europe until the 1960s and then he chose Italy, more specifically Tuscany: Pietrasanta became his favorite place to work. In Italy, on Capri, he died and he was buried in Jerusalem.
If today we can welcome a series of works by this great artist to Prato, we owe it to the fundamental input of our friend Prof. Kosme de Baranano, who has perfectly forged his profession as an art historian from passion and great professionalism.
The arrival of the Lipchitz works in Prato is the realization of a wish that the widow Yulla expressed thirty-eight years ago. All this time was needed to make it happen but, in the end, we have succeeded.
It all started in 1974 during the inauguration in Prato of Henry Moore's sculpture,Forma squadrata con taglio. On the occasion Moore brought Yulla, widowed only a few months, along with him. She was amazed by the City's warm welcome and favorably struck by the enthusiasm with which the citizens accepted Moore's art work (still today in Piazza San Marco it has become over the years a kind of symbol for the city).
After that day of celebration Yulla Lipchitz mentioned the possibility of donating a certain number of art works belonging to the Maestro's plaster collection. I remember how, on the same occasion, she stated her conviction that a peripheral city can often be a more suitable site to leave modern monographic works, rather than a large center which is often too engaged in managing its many art works and cultural institutions.
I never forgot those words, to the point that over time my memory became regret for the missed opportunity. And Prato has missed many chances such as Dani Karavan, Marino Marini, Fausto Melotti, Robert Morris and Jacques Lipchitz himself.
So it is understandable the trepidation with which I followed Prof. Kosme de Baranano's patient work when he was able to pick up this thread that had been set out many years before. His determination and the generosity of Hanno D. Mott have brought a precious treasure to Tuscany: 23 drawings and 8 engravings to the Galleria degli Uffizi and 43 drawings and 28 plasters to Prato's Palazzo Pretorio Museum.
Jacques Lipchitz' art works in Tuscany, apart from being a priceless public patrimony, will also be a trace to tell future generations the history of the twentieth century, its artistic events and the evolution of the culture with which we have built our present.
Giuliano Gori, Collector
On the occasion of the exhibition Jacques Lipchitz in Monaco, Florence and Prato, March 3 - May 3 2015, Palazzo Pretorio Museum
Find out more about