August at the Museum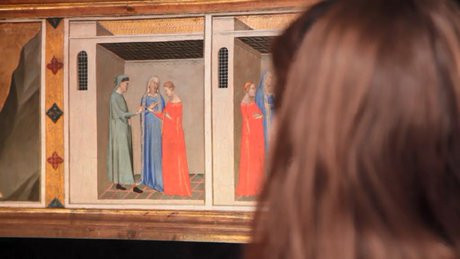 The art of Palazzo Pretorio does not go on holiday and the Museum is confirmed as a place of discovery and sharing throughout the month of August, with a few gifts and more opportunities for all the Prato people and also for tourists in the city.

Palazzo Pretorio will in fact be regularly open for the entire month of August, with a change in the opening time from 4 to 8.30 p.m. with last admission at 8 p.m.. For all residents the Museum will also be free, a special summer promotion to encourage visits to the permanent collection, treasure and heritage of the entire city, including masterpieces by Filippo and Filippino Lippi, Donatello, the Prato artist Lorenzo Bartolini, but also Giovanni da Milano and Jacques Lipchitz in the suggestive hall on the top floor. Speaking of suggestions, the panoramic terrace on the roof of the Museum will be regularly accessible during opening hours to give a postcard-like glimpse even at sunset.
Finally, special appointment on Wednesday the 15th of August, on the occasion of the Midsummer Feast with a postponed closure at midnight, an extension of time to allow celebrating the 15th of August with calm and in contact with the art and culture of a museum that collects and tells more than seven hundred years of history and beauty.
Palazzo Pretorio is open every day, except on Tuesday, in August the free guided tours of the weekend are suspended, it is however possible to organize visits with guides and educational operators of the museum for individuals or groups.