High Accessibility Belt: the first Museum in Tuscany which uses the AAC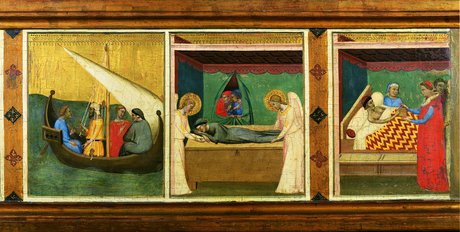 PalazzoPretorioMuseum, in collaboration with CoopCulture, has elaborated a project so that the use of services can be completely accessible. The room dedicated to the "Holy Belt", which  contains the 12th Century dais by Bernardo Daddi, is provided with communication support instruments to satisfy the needs of people with particular communicative necessities or those who require aid for communication and comprehension.
The aim of "AAC", one of the first in Italy developed by a museum institution, is to propose accessible museum services using AAC and LIS (language of the signs): the project, presented on Wednesday 7th September,  is supported by Usl Toscana Centro and ISAAC, in cooperation with ENS (national institution for deaf people).
These are instruments to facilitate and welcome visitors with difficult communicative needs who have problems to read and learn: users with cognitive disabilities (autism, dyslexia, dysgraphia), children before 6 years old or foreigner children who don't have already approached with Italian language, adults with diseases which hinder reading and comprehension. Important numbers are also in Prato, where 200 AAC protocols were activated in the last five years by the service of infant neuropsychiatry. Palazzo Pretorio, hosting the memory of the territory with its collection of masterpieces which range from the 12th to the 18th Century, opens itself to an innovative fruition: it's the first museum in Tuscany to equip itself with specific instruments of communication (LIS and AAC) to allow a real inclusion and to overcome all the barriers, as approved by UNO-agreement on disabled people rights. The project is supported by Usl Toscana Centro and Isaac (International Society for the alternative and augmentative communication), and also by Ens (national institution for deaf people). The dais by Bernardo Daddi is also the first step of a project which will develop the instrument of the alternative and augmentative communication also to other works of the permanent collection.