Happy Birthday Pretorio!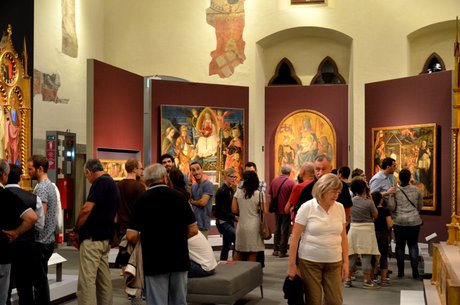 On Wednesday the 12th of April Palazzo Pretorio Museum celebrates its third anniversary with a day of free admission. On this occasion the opening time will be extended till 8 p.m. accompanied by performances of the students of the "G. Verdi" music school. Francesco Canfailla (cello), Edoardo Berti (viola) and Sara Lanzillotta (guitar) will be on a different floor of the museum performing a classical repertoire with music by Bach.
A living space, full of events and initiatives, a treasure trove of works that tell the city and its history: Palazzo Pretorio approaches the milestone of three years by taking a look into the future with the organization of the new exhibition "Bound by a Girdle" which will come out in September and maintaining high the attention to the present offering continuous visit opportunities.
The birthday party becomes a moment to share with the whole city and an invitation to discover and rediscover a collection of more than 250 works of art among paintings, sculptures, ceramics and drawings, which includes masterpieces by Filippo and Filippino Lippi, Donatello, the large altarpieces painted by Santi di Tito and Alessandro Allori, Giovanni da Milano, the plaster casts by Lorenzo Bartolini and the impressive sculptures by Jacques Lipchitz.
"The birthday of Palazzo Pretorio - says Councilor Simone Mangani - is an opportunity to rethink the role of the permanent collection, which is the heart of our Museum. The next return to Prato of the Galleria degli Alberti paintings is reason to assume small, big changes from 2018."
Meanwhile, on the ground floor, visitors can still admire "Arrigo Del Rigo, restlessness and poetry of the early twentieth century," a temporary exhibition open until 1st of May that pays a tribute to the work of an artist closely linked to its Prato, which he affectionately paints in his works. The 49 paintings of the exhibition reveal an interest in episodes of daily life that unfolds between sites, affections and events of the painter who died prematurely at just 24 years.