The man with the dog
From 29 May 2021 to 10 October 2021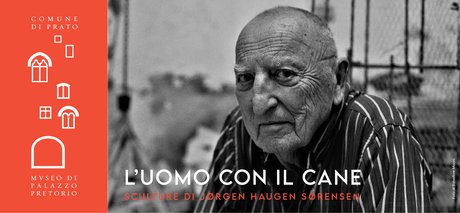 The power of Jørgen Haugen Sørensen's message reaches the public through his works, extraordinary sculptures, which dig into the soul, an antidote to indifference: "The man with the dog" is the exhibition of the Danish sculptor which will be hosted in Prato, in iconic spaces of the historic center. Organized by the Museum of Palazzo Pretorio, the exhibition develops in the ground floor spaces of the Museum, and then continues in a path through the city that touches the Emperor's Castle up to the medieval Cassero, which has just reopened to the public. Jørgen Haugen Sørensen, who has lived in Pietrasanta for years, is one of the most appreciated sculptors of our time, an international artist who has exhibited his works in highly prestigious spaces.
Haugen Sørensen returns to Prato after many years: it was 1983 when his works were exhibited in different spaces of the city. Before him, artists of the caliber of Giuseppe Spagnulo, Henry Moore, Giò Pomodoro, Dani Karavan, had been the protagonists of exhibitions, always outdoors. The goal was to bring art among the people, to break the taboo of culture as entertainment for only a few people.
The history of art tells of dogs seen as a symbol of fidelity: already the Egyptians, and then the Greeks and Romans, interpreted this animal as an undisputed friend of man; in the same way Giotto, Tiziano, Velazquez, up to Zandomeneghi, Picasso and Ligabue, to name but a few, painted it highlighting its positive characteristics. Sørensen's dogs are more. In the dogs of the Danish sculptor the ferocity, the lack of shame, the absence of morality emerge: it is a humanity without rules and laws, it is a condition still present in particular areas of the world. It is not meant to be a complaint, but an observation of the fragility of the human being.

Palazzo Pretorio Museum, Emperor's Castle, Medieval Cassero

Opening times:
Palazzo Pretorio Museum 10.30 a.m.-6.30 p.m. (closed on Tuesday)
Emperor's Castle 10 a.m.-1 p.m./4-8 p.m. (closed on Tuesday)
Medieval Keep 4-8 p.m. (closed on Tuesday)

Free admission.