After Caravaggio. The Neapolitan seventeenth century collections of Palazzo Pretorio and the De Vito Foundation
From 14 December 2019 to 13 April 2020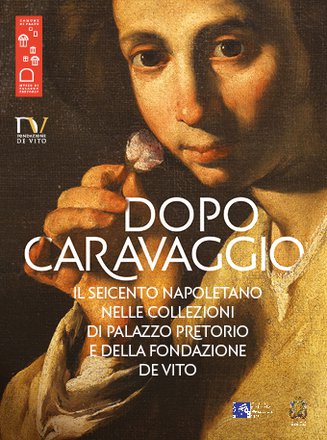 After Caravaggio. The Neapolitan seventeenth century collections of Palazzo Pretorio and the De Vito Foundation, is the title of the exhibition organized by the Municipality of Prato, in collaboration with the De Vito Foundation, curated by Rita Iacopino, scientific director of the Palazzo Pretorio Museum, and Nadia Bastogi, scientific director of the De Vito Foundation, scheduled at the Palazzo Pretorio Museum from 14th December 2019 to 13th April 2020.
The exhibition stems from the consideration that the Palazzo Pretorio Museum in Prato holds one of the most important nucleus in Tuscany of works by the Neapolitan Seventeenth century, second only to the Florentine galleries. The reconstruction of the historical events of the pieces and the interest of Prato collectors for the Neapolitan painting takes an interesting turn in this context as one of the main critical contributions of the exhibition.
Equally decisive is the contribution to the knowledge of the Neapolitan painting of the seventeenth century of the De Vito Foundation, which with its collection, formed starting from the seventies of the last century, thanks to Giuseppe De Vito (Portici 1924- Florence 2015) connoisseur, scholar, collector of the Neapolitan seventeenth century works of art and founder of the periodical "Researches on the Neapolitan seventeenth century", represents, for quality and historical interest, one of the most significant private collections of Neapolitan painting of the seventeenth century.
The aim of this exhibition is therefore to enhance the works of the Palazzo Pretorio Museum and the De Vito Foundation, whose collections, although formed in different ways and at different times, document the interest in the naturalism of seventeenth-century Neapolitan painting. Stories of ancient and modern collecting that allow you to retrace some stages of development after the presence of Caravaggio in Naples, through the works of painters among the most significant of this artistic season, from Battistello to Nicola Malinconico.
Museum and exhibition ticket: 10 € full price, 8 € reduced price (reductions and free tickets on the Palazzo Pretorio Museum site)
Info and reservations: Ph. +39 0574 24112 from Monday to Friday 9 a.m.-6 p.m., Saturday 9 a.m.-2 p.m.
museo.palazzopretorio@comune.prato.it www.palazzopretorio.prato.it